This work is licensed under the Creative Commons | © Stefka Hristova. ISSN 2049-1115 (Online). DOI: http://dx.doi.org/10.14318/hau7.1.028
COLLOQUIUM
Notes on the iconography of mediated gestures
This article argues for the relevance of Erwin Panofsky's twentieth-century art historical three-step method of preiconography, iconography, and iconology to the field of media studies. It illustrates the ways in which genealogies of visual elements spread across a wide range of visual media can illuminate long-standing cultural tropes. More specifically, this project takes up the second step proposed by Panofsky—namely iconography—to link visual representations of Trump's election campaign to the recruitment World War I posters featuring a caricature of Uncle Sam. Through the articulation of this genealogy, it sheds light on the ways in which humor and politics have been visually welded together by the popular press since the nineteenth century.
Keywords: Uncle Sam, iconography, visual genealogy, gestures, caricature
Kira Hall, Donna Goldstein, and Matthew Ingram have eloquently written that during his election campaign, presidential candidate Donald Trump used exaggerated hand gestures to insert "lowbrow drama, humor, and violence" to appeal to the voters as a "spontaneous" and "honest" man (2016: 83). The campaign created an alliance between a metropolitan billionaire and poor working-class families living in rural "flyover" country. In thinking about the importance of gestures in Donald Trump's presidential campaign, I turn to a historical understanding of the visualization of gestures in order to link Trump's election campaign to the Uncle Sam WWI recruitment posters.
Gestures promise to act as shortcuts. They are visualized across a variety of media outlets. Furthermore, in the context of photography-based still and moving pictures, they capture embodied everyday life. In tracing the ways in which gestures carry meaning across a wide visual landscape, I turn to an appropriation of a traditional art historical method to a world beyond art that includes contemporary as well as historical visual culture broadly understood. The method in question is [416]iconography. Twentieth-century art historian Erwin Panofsky articulated it as "a description and classification of images as much as ethnography is a description and classification of human races: it is a limited, and as it were, ancillary study which informs us as to when and where specific themes were visualized by which specific motifs" (1955: 31).
Developed in the discipline of art history in order to provide means of understanding images in a "history of style" and a "history of concepts," this visual analysis method is useful for connecting tropes across the visually saturated contemporary media environment (Panofsky 1955: 35). I want to emphasize the connection among ethnography and art history that informs Panofsky's methodology in order to think about the ways in which iconography can be understood as a method for conducting a visual iconographic genealogy that in turn will provide material for a visual media ethnographic analysis. Panofsky begins his seminal essay with a common case study, one that can be experienced in real life and could potentially be encountered in an image: a gentleman lifting his hat. This motif or gesture is connected to a body of cultural knowledge and a historical context. It has its origins in chivalry and has retained a trope of friendliness to the twentieth century even though the object lifted has changed from helmet to hat. The gesture, established by conventions of friendship and enmity during the Middle Ages, has adapted—hence endured through alteration—to the early twentieth century when Panofsky encounters a gentleman lifting his hat. This visual gesture and its underlining tropes are preserved both in the arts and in lived experience. Whereas the arts function as the primary visual depository for cultural knowledge prior to the industrial revolution, with the invention of the printing press and photography-based media, visual cultural memory finds popular media as its new home. Visual media comes to constitute a comprehensive cultural archive of everyday life. Now the lived experience is not composed, as it would be in a painting, but selectively captured, deepening the connection between image and everyday experience. In this space of convergence, ethnography of the real and mediated worlds collides and iconography extends from art history, over to media.
Panofsky (1955) conceived of iconography as part of a three-method/step image analysis method. Taking the existence of a visual archive as a given, he argues that a first step in analyzing a visual landscape is conducting a preiconographic analysis that identifies the existing artistic motifs. Iconography, as a second step, examines the "world of specific themes or concepts manifest in images" (29). Whereas iconography offers an analysis of images given the cultural and historical context in which they emerge as well as circulate relationally, the third method, iconology, offers a broader synthesis of cultural landscape in which images operate. Iconology is then "an iconography turned interpretive and thus becoming an integral part of the study of art, instead of being confined to the role of a preliminary statistical survey" (32). In Panofsky's thinking, iconology emerges as the art historical equivalent of ethnology.
I take on three-step methodology that Panofsky articulates as productive in establishing special and temporal trajectories of the life of pictures—pictures that stand as images of our lives. I focus here on the second step—namely iconography—as it allows for the articulation of visual threads, of patterns, of continuities amid ruptures, in a visual landscape that spans media forms as well as temporal periods. Panofsky's iconology has been extended and elaborated by art historian [417]and critical theory scholar W. J. T. Mitchell (2004). In thinking about the larger synthesis, the social implications of visual iconographic analysis, I turn to Mitchell's iconological articulation of social want and lack. Through this framework, images are seen as powerful because they respond to a void, need, gap.
In this reflection on the visual media coverage of the Trump election campaign, I evoke a comparative iconographic methodology that allows for the establishment of a visual genealogy of humorous gestures in American politics across a wide range of media formats. Here an iconographic analysis of Trump's visual hand and mouth gestures are positioned in parallel to the most successful recruitment poster campaign in US history—that of Uncle Sam.
The aesthetics of patriotism and humor, as well as the articulation of desire, power, and lack in Trump's campaign mimics those utilized during the Uncle Sam World War I and II posters. In 1917, James Montgomery Flaggs created the Uncle Sam poster campaign as a recruitment tool for the US Army (see Figure 1). Deemed the most effective and widely distributed poster campaign, it was successfully reused for military recruitment during World War II. The similarity in terms of aesthetics and exaggerated gestures between the Uncle Sam and Trump's visual campaigns was noted by Internet culture as well as by the popular media. The February 2016 cover of the Economist, for example, features a composite image in which Donald Trump's face is integrated into the Uncle Sam poster (see Figure 2). While the article associated with this image is critical of Trump's presidential candidacy, it fails to address the visual strategies that have helped to transform Uncle Trump to President Trump. Trump supporters in social media made their own version of Uncle Trump image. Here, Trump's face features an open mouth, as if he is caught in the act of actively chastising his opponents and energizing, through verbal address, his proponents. This image became the signature icon for the popular pro-Trump Twitter account @UncTrumpWantsU (2016) (see Figure 3). Bumper Stickers and magnets with the image of Donald Trump as Uncle Sam and the slogan of making America great again proliferated on the Internet (see Figure 4).
The similarities between Uncle Trump and Uncle Sam were established via four main visual devices. The first trajectory of visual similarity can be articulated through a preiconographic method by focusing on the formal use of color. Red, White, and Blue—the colors of the American flag—have been carefully choreographed onto the clothing of Donald Trump as well as Uncle Sam: the white shirt, the blue blazer, and most importantly, the red tie.
The second device is articulated through an iconographic methodology by tracing the visual coupling of politics to humor through the aesthetic of caricature. In his election campaign, Trump was often portrayed with exaggerated facial expressions and hand gestures. As Hall, Goldstein, and Ingram point out, "to watch Trump perform a stump speech is to experience something like stand up comedy" (2016: 77). Uncle Sam, too, visually embodies the aesthetic of caricature. In his seminal book What do Pictures Want?, W. J. T. Mitchell provides a iconographic visual genealogy of the ways in which humor and politics have been welded together by the popular press since the nineteenth century. Mitchell considers Uncle Sam to be "a pictorial descendant of British Caricatures of 'Yankee Doodle,' a figure of ridicule that adorned the pages of Punch throughout the nineteenth century" (2004: 37). The Trump election campaign thus capitalized on a visual history that [418]situates him both as a patriot as well as an "antiestablishment" figure. His use of visual humor invokes the images of both Uncle Sam and Yankee Doodle and thus legitimizes him as an "authentic" American. Situating Trump's visual gestures in the broader visual landscape establishes a historical trajectory for the coupling of humor, politics, and gestures.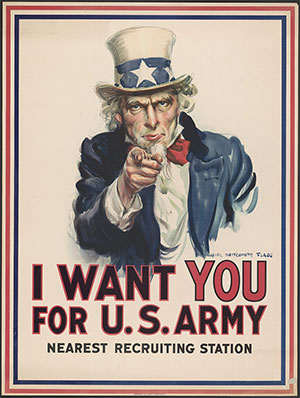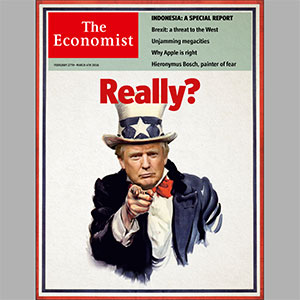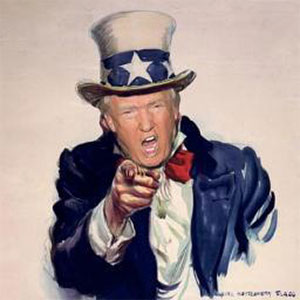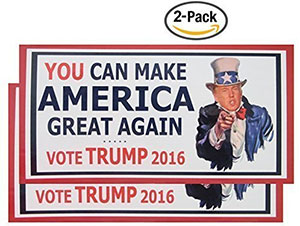 The third avenue for establishing the Trump–Uncle Sam visual genealogy is an iconographic analysis of his hand gestures. Both visual campaigns evoke exaggerated gestures. The Uncle Sam poster features a gesture of a "pointing or beckoning hand [which] is a common feature of the modern recruiting poster" (Mitchell 2004: 37). One of Trump's signature hand gestures modified the pointing hand to the "pistol hand" (Hall, Goldstein, and Ingram 2016: 79). The hand pointing forward appears visually closer and therefore bigger, exaggerating and escalating the message that is carried. While Uncle Sam seemingly displays "overt signs of positive desire" and visualizes a message of directly wanting the viewer to join him, Trump's gestures enact difference. They "differ from the hands of the competitors" and frame the bodies of his opponents as "grotesque" based on a critique of "disability, class, and race" (Hall, Goldstein, and Ingram 2016: 86). Trump's exaggerated gestures seem to be oriented toward his political opponents and not directly toward the voters. There is more to this positive message of differentiation. These gestures create a space of lack—they open a space for audience participation in ways similar to the strategies deployed by the Uncle Sam campaign.
Mitchell's argument that "we need to ask what the picture wants in term of lack" (2004: 37) can illuminate the appeal of billionaire Trump to working-class white [420]voters. In discussing the Uncle Sam poster, he writes that on first look, "The immediate aim of the picture appears to be a version of the Medusa effect: that is, it 'hails' the viewer verbally and tries to transfix him with the directness of gaze and (its most wonderful pictorial feature) foreshortened pointing finger that single out the viewer, accusing, designating, and commanding him" (Mitchell 2004: 36–37). This overt message, however, is supplemented by a message of want, building on a lack.
Here the contrast of the U.S. with the German recruiting poster is clarifying. The latter is an image in which a young soldier hails his brothers, calls them to the brotherhood of honorable death in battle. In contrast, Uncle Sam, as his name indicates, has a more tenuous, indirect relation to the potential recruit. He is an older man who lacks the youthful vigor for combat, and perhaps, even more important, lacks the direct blood connection that the figure of the fatherland would evoke. [He is] himself sterile, a kind of abstract, pasteboard figure who has no body, no blood, but who impassionates the nation and calls for other men's sons to donate their bodies and their blood. (Mitchell 2004: 37)
It is thus lack, rather than power, that the Uncle Sam image signifies through gesture.
Taking up Mitchell's call, I offer an iconological argument: namely, that the Donald Trump campaign spoke to and of its voting constituents by opening up a want, a need, a lack in a space that is already marked by difference. A billionaire who offers to "Make America Great Again" needs unsatisfied bodies with real needs. "I am your voice," claimed Trump during the election campaign, revealing the need for an authentic voice that can be then appropriated as one's own (Politico Magazine 2016). Thus, the appropriation of bodies of the voters into the body politics of the presidential candidate is visually represented by the portrayals of Trump with his mouth half open, caught midway through a scornful tirade. It is in the expression of his "aggressive" mouth that Trump visualizes the lack and desire of an embodied voice that he can become and materialize. While Trump's hands articulated the space of the enemy, his mouth evokes the space of difference, a void, an opening, in which voices of dissent can be taken, appropriated, exploited. Trump does not need to hear or reply to the voices. He needs them to fuel his "spontaneous," "honest" persona (Hall, Goldstein, and Ingram 2016: 83). He channels his mostly white, rural, working- and middle-class followers through himself. Without them, Trump, a rich and powerful urban billionaire, has no populist and popular agenda to defend.
Visual genealogies allow for the historicizing of the ways in which laughter structures a politics of difference. Laughter, as theorized by Henry Bergson (1914), polices the boundaries of social propriety, rejecting total thoughtlessness and acknowledging only certain kinds of behaviors as acceptable. Bergson's theory of laughter alerts us precisely to the corrective function of laughter and points our attention to the group being laughed at: "laughter corrects man's manners. . . . It makes us at once endeavor to what we ought to be, what some day we shall perhaps end in being" (Bergson 1914: 6). Laughter is the "social gesture" (20–21) of correction par excellence. More specifically, it rectifies what is sees as "separatist tendencies" (19) by indicating the limits of propriety and demarcating those who are seen as not belonging to the social group that tells the joke. Laughter brings to light the boundaries of difference by pointing to those seen as liminal subjects; it [421]outlines the parameters of socially preferred gendered, raced, and classed habits, and thus upholds a social normativity. Political laughter, visualized and amplified by the popular media, exaggerates political and social divisions based on difference and propriety. An iconography of comedic political images thus points to sites of power and privilege, as well as to the contours of the social bodies it circumscribes.
References
Bergson, Henri. 1914. An essay on the meaning of the comic. New York: The Macmillan Company.
The Economist. 2016. "Time to fire Trump." February 27. http://www.economist.com/news/leaders/21693579-front-runner-unfit-lead-great-political-party-let-alone-america-time-fire-trump/.
Hall, Kira, Donna M. Goldstein, and Matthew Bruce Ingram. 2016. "The hands of Donald Trump: Entertainment, gesture, spectacle." HAU: Journal of Ethnographic Theory 6 (2): 71–100.
Panofsky, Erwin. 1955. "'Iconology and iconography: An introduction to the study of Renaissance Art." In Meaning in the visual arts: Papers in and on art history, 26–54. Garden City, NY: Doubleday.
Mitchell, W. J. T. 2004. What do pictures want? Chicago: University of Chicago Press.
Politico Magazine. 2016. "Full text: Donald Trump 2016 draft speech transcript." July 21. http://www.politico.com/story/2016/07/full-transcript-donald-trump-nomination-acceptance-speech-at-rnc-225974.
"Uncle Trump @UncTrumpWantsU" Twitter. 2016. https://twitter.com/unctrumpwantsu/.
Notes sur l'iconographie de gestes médiatisés
Résumé : Cet article montre la pertinence de la méthode en trois étapes proposée par l'historien de l'art du 20e siècle Erwin Panofsky - à savoir: pré-iconographie, iconographie et iconologie - pour le champ de l'étude des médias. Il démontre que dresser les généalogies d'éléments visuels diffusés au sein d'un vaste ensemble de médias visuels peut offrir un nouveau regard sur des tropes anciennes. En particulier, ce projet s'inspire de la deuxième étape proposée par Panofsky, l'iconographie, afin de faire le lien entre les représentations visuelles de la campagne électorale de Trump et les posters de conscription de la Première Guerre Mondiale incluant une caricature de l'Oncle Sam. En mettant en avant cette généalogie, nous soulignons comment l'humour et la politique ont été visuellement soudé ensemble par la presse depuis le 19e siècle.
Stefka HRISTOVA is an Assistant Professor of Digital Media at Michigan Technological University. She holds a PhD in Visual Studies with emphasis on critical theory from the University of California, Irvine. Her research analyzes the digital visual [422]cultures of war and political dissent. Her work has been published in journals such as Transnational Subjects Journal, Visual Anthropology, Radical History Review, TripleC, Surveillance and Security, and Interstitial.
Stefka Hristova
Assistant Professor of Digital Media
Department of Humanities
Michigan Technological University
1400 Townsend Drive
Houghton, MI 49931
USA
shristov@mtu.edu