HAU: Journal of Ethnographic Theory, is an international peer-reviewed, partly open-access journal that appears in both digital and print format. It aims to take ethnography as the prime heuristic of anthropology, and return it to the forefront of conceptual developments in the discipline.
The journal is motivated by the desire to reinstate ethnographic theorization in contemporary anthropology as an alternative to explanation or contextualization by philosophical arguments--moves which have resulted in a loss of the discipline's distinctive theoretical nerve. By drawing out anthropology's potential to critically engage and challenge its own cosmological assumptions and concepts, HAU aims to provide an exciting new arena for evaluating ethnography as a daring enterprise for worlding alien terms and forms of life, exploring  their potential for rethinking humanity, self, and alterity.
HAU takes its name from a Māori concept, whose controversial translations—and the equivocations to which they gave rise—have generated productive theoretical work in anthropology, reminding us that our discipline exists in tension with the incomparable and the untranslatable. Through their reversibility, such inferential misunderstandings invite us to explore how encounters with alterity can render intelligible a range of diverse knowledge practices. In its online version, HAU stresses immediacy of publication, allowing for the timely publication and distribution of untimely ideas. The journal aims to attract the most daring thinkers in the discipline, regardless of position or background.
HAU welcomes submissions that strengthen ethnographic engagement with received knowledges, revive the vibrant themes of anthropology through debate and engagement with other disciplines, and explore domains held until recently to be the province of economics, philosophy, and the sciences. Topics addressed by the journal include, among others, diverse ontologies and epistemologies, forms of human engagement and relationality, cosmology and myth, magic, witchcraft and sorcery, truth and falsehood, science and anti-science, art and aesthetics, theories of kinship and relatedness with humans and non-humans, power, hierarchy, materiality, perception, environment and space, time and temporality, personhood and subjectivity, and the metaphysics of morality and ethics.
Free access journal
The University of Chicago Press publishes one free-access journal: HAU: Journal of Ethnographic Theory. This model provides one month of free access after the release of each new issue, and then requires a subscription for continuous access to content. All HAU: Journal of Ethnographic Theory content published from 2011-2017 is open access.
Announcements
In memoriam Sally Falk Moore

We are deeply saddened to learn of the passing of Sally Falk Moore on May 2, 2021. An intellectually generous scholar of Africa, her theoretical contributions grew out of her fieldwork among the Chagga in Tanzania. In what was a first, she investigated the interactions between indigenous, colonial, and post-colonial social and legal systems in the context of the new socialism after independence. What, she asked specifically, did state attempts to decolonize mean for kinship, landholding, and law? Through her research, she shifted the study of law from its textual products and debates among legal scholars to its execution and effects in lived time, and demonstrated how "customary law" is not prior to state law but a modern product of this encounter with the state. HAU is honored to have published her final book, Comparing Impossibilities (2016), which includes essays published throughout her long career. We will miss Sally, above the scholarship she inspired and the many students whose lives she touched.

Kriti Kapila, Anne-Christine Taylor, John Borneman, and Carlos D. Londoño Sulkin

Board of Directors, Society for Ethnographic Theory

Posted: 2021-07-02
More...
Vol 12, No 1 (2022)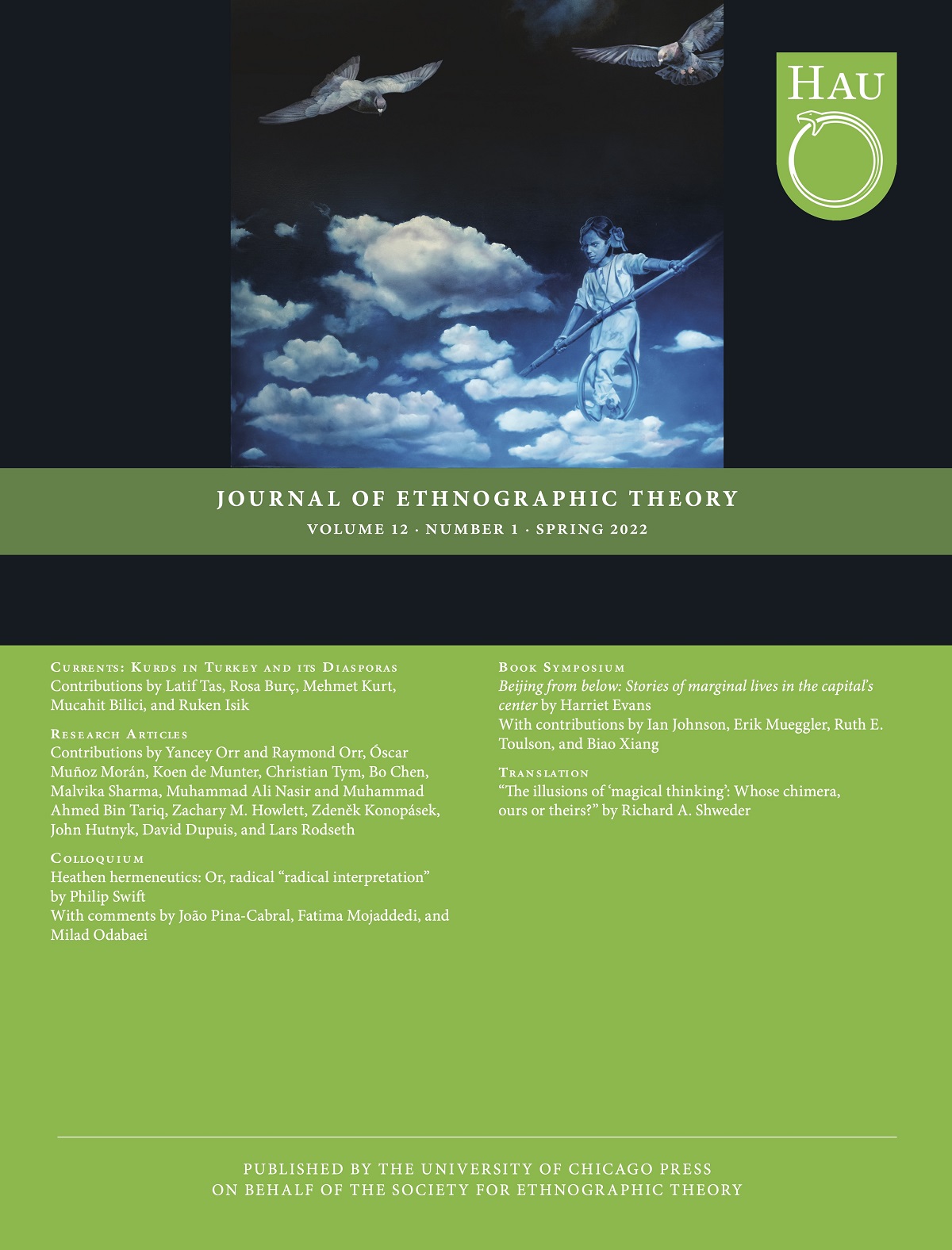 Table of Contents
Editorial Note
Balancing acts and worldviews

Luiz Costa, Raminder Kaur, Mariane C. Ferm, Andrew B. Kipnis

1–8
Currents: Kurds in Turkey and its Diasporas
Articles
| | | |
| --- | --- | --- |
| | Yancey Orr, Raymond Orr | 46–62 |
| | | |
| --- | --- | --- |
| | Muhammad Ali Nasir, Muhammad Ahmed Bin | 141–153 |
| | | |
| --- | --- | --- |
| | Zachary M. Howlett | 154–169 |
Colloquium
How to do things with worlds: A reply to responses

Philip Swift

285–295
Book Symposium
The death of urban China: Reflections on Harriet Evans's Beijing from below

Ian Johnson

296–298
Life in old Beijing

Erik Mueggler

299–302
When "the state" is the absence of a sour red date: Memory, materiality, and agency

Ruth E. Toulson

303–306
Scales of knowing

Biao Xiang

307–309
Place, materiality, and gender in subaltern memories of long lives in a poor Beijing neighborhood

Harriet Evans

310–318
Translation
The illusions of "magical thinking": Whose chimera, ours or theirs?

Richard A. Shweder

319–325