HAU: Journal of Ethnographic Theory, is an international peer-reviewed, partly open-access journal that appears in both digital and print format. It aims to take ethnography as the prime heuristic of anthropology, and return it to the forefront of conceptual developments in the discipline.
The journal is motivated by the desire to reinstate ethnographic theorization in contemporary anthropology as an alternative to explanation or contextualization by philosophical arguments--moves which have resulted in a loss of the discipline's distinctive theoretical nerve. By drawing out anthropology's potential to critically engage and challenge its own cosmological assumptions and concepts, HAU aims to provide an exciting new arena for evaluating ethnography as a daring enterprise for worlding alien terms and forms of life, exploring  their potential for rethinking humanity, self, and alterity.
HAU takes its name from a Māori concept, whose controversial translations—and the equivocations to which they gave rise—have generated productive theoretical work in anthropology, reminding us that our discipline exists in tension with the incomparable and the untranslatable. Through their reversibility, such inferential misunderstandings invite us to explore how encounters with alterity can render intelligible a range of diverse knowledge practices. In its online version, HAU stresses immediacy of publication, allowing for the timely publication and distribution of untimely ideas. The journal aims to attract the most daring thinkers in the discipline, regardless of position or background.
HAU welcomes submissions that strengthen ethnographic engagement with received knowledges, revive the vibrant themes of anthropology through debate and engagement with other disciplines, and explore domains held until recently to be the province of economics, philosophy, and the sciences. Topics addressed by the journal include, among others, diverse ontologies and epistemologies, forms of human engagement and relationality, cosmology and myth, magic, witchcraft and sorcery, truth and falsehood, science and anti-science, art and aesthetics, theories of kinship and relatedness with humans and non-humans, power, hierarchy, materiality, perception, environment and space, time and temporality, personhood and subjectivity, and the metaphysics of morality and ethics.
Free access journal
The University of Chicago Press publishes one free-access journal: HAU: Journal of Ethnographic Theory. This model provides one month of free access after the release of each new issue, and then requires a subscription for continuous access to content. All HAU: Journal of Ethnographic Theory content published from 2011-2017 is open access.
Announcements
In memoriam David Graeber

We lament the death of David Graeber on September 2, 2020. An Editor of HAU: Journal of Ethnographic Theory but also anarchist and political activist, Graeber drew a large audience to anthropology unlike any since Margaret Mead, whose books, magazine articles, and radio addresses were read and listened to by millions of middle-class families in their living rooms. Graeber made novel use of the opportunities of new social media and the Internet for dissemination of his fecund ideas. Among these ideas his boldest and perhaps most influential has been a re-interpretation of the history of debt challenging some basic assumptions of economists, which have legitimized the great inequalities of our time. Equally, his writings on 'Bullshit jobs' have given shape and meaning to a widespread feeling of uselessness in the contemporary workfield. While these works, combined with his engagement in transnational political movements, account for his stature as a public intellectual, they should not overshadow his important contributions to the ethnography of Madagascar, the anthropology of magic, the sacred roots of kingship and the nature of prehistoric societies. The depth and breadth of his scholarship was astounding, his curiosity insatiable and his ability to surprise and engage his audience unmatched.

Board of Directors, Society for Ethnographic Theory

Posted: 2020-09-04
More...
Vol 10, No 1 (2020)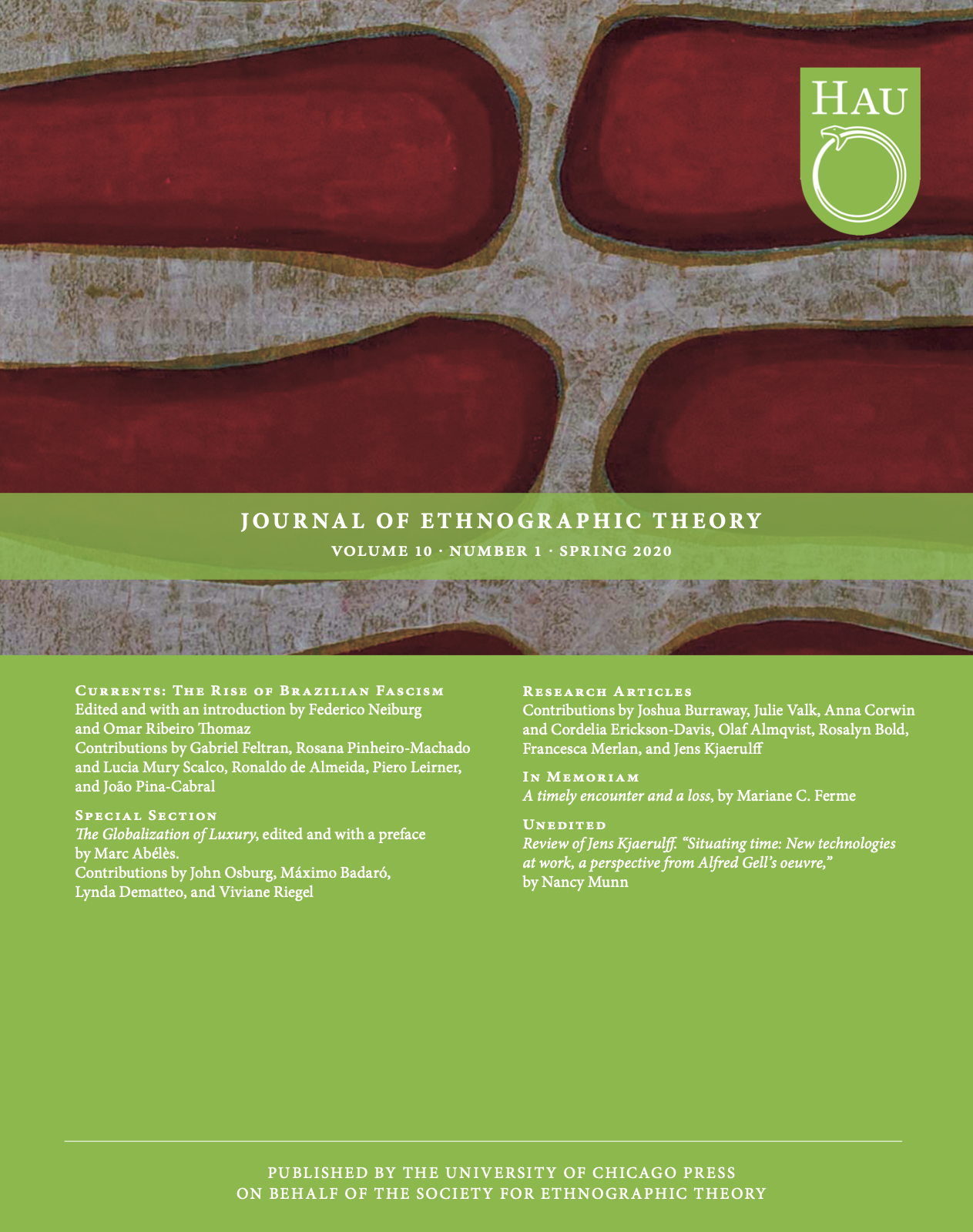 Table of Contents
Editorial Notes
Flesh, bones, and spirits

Raminder Kaur, Andrew B. Kipnis, Luiz Costa, Mariane C. Ferme

1–6
Currents: The Rise of Brazilian Fascism
| | | |
| --- | --- | --- |
| | Federico Neiburg, Omar Ribeiro Thomaz | 7–11 |
| | | |
| --- | --- | --- |
| | Rosana Pinheiro-Machado, Lucia Mury Scalco | 21–31 |
Special Section: Globalization of Luxury
Articles
| | | |
| --- | --- | --- |
| | Anna I. Corwin, Cordelia Erickson-Davis | 166–182 |
In Memoriam
A timely encounter and a loss

Mariane C. Ferme

251–253
Unedited
Review of Jens Kjaerulff. "Situating time: New technologies at work, a perspective from Alfred Gell's oeuvre"

Nancy Munn

254–258