As every experienced fieldworker knows, the most difficult task in social anthropological fieldwork is to determine the meaning of a few key words, upon an understanding of which the success of the whole investigation depends. – E. E. Evans-Pritchard
HAU: Journal of Ethnographic Theory, is an international peer-reviewed journal which aims to situate ethnography as the prime heuristic of anthropology, and return it to the forefront of conceptual developments in the discipline.
The journal is motivated by the need to reinstate ethnographic theorization in contemporary anthropology as a potent alternative to its 'explanation' or 'contextualization' by philosophical arguments, moves which have resulted in a loss of the discipline's distinctive theoretical nerve. By drawing out its potential to critically engage and challenge Western cosmological assumptions and conceptual determinations, HAU aims to provide an exciting new arena for evaluating ethnography as a daring enterprise for 'worlding' alien terms and forms of life, by exploiting their potential for rethinking humanity and alterity.
HAU takes its name from Mauss' Spirit of the Gift, an anthropological concept that derives its theoretical potential precisely from the translational inadequations and equivocations involved in comparing the incomparable. Through their reversibility, such inferential misunderstandings invite us to explore how encounters with alterity occasion the resurgence and revisitation of indigenous knowledge practices. As an online journal, HAU stresses immediacy of publication, allowing for the timely publication and distribution of untimely ideas. Aiming to attract the most daring thinkers in the discipline, regardless of position or background, HAU also places no restriction on further publication of material published by the journal.
HAU welcomes submissions that strengthen ethnographic engagement with received knowledges, and revive the vibrant themes of anthropology through debate and engagement with other disciplines and explore domains held until recently to be the province of economics, philosophy and the natural sciences. Topics addressed by the journal include indigenous ontologies and systems of knowledge, forms of human engagement and relationality, cosmology and myth, magic, witchcraft and sorcery, truth and falsehood, indigenous theories of kinship and relatedness with humans and non-humans, hierarchy, materiality, perception, environment and space, time and temporality, personhood and subjectivity, alternative metaphysics of morality.
Free access journal
The University of Chicago Press publishes one free-access journal: HAU: Journal of Ethnographic Theory. This model provides one month of free access after the release of each new issue, and then requires a subscription for continuous access to content. All HAU: Journal of Ethnographic Theory content published from 2011-2017 is open access.
Announcements
CFP: HAU Special Issue, Witnessing Environmental Change, Deadline 30 June 2020

Proposals should be submitted by 30th June 2020. 

To inquire or submit a proposal, please contact the Special Issue guest editors:

Sarah Vaughn: sev83@berkeley.edu

Danny Fischer: dtfisher@berkeley.edu

Cc to Mariane C. Ferme: mcf@berkeley.edu

The call for proposals can be found here.

Posted: 2020-03-27
More...
Vol 9, No 3 (2019)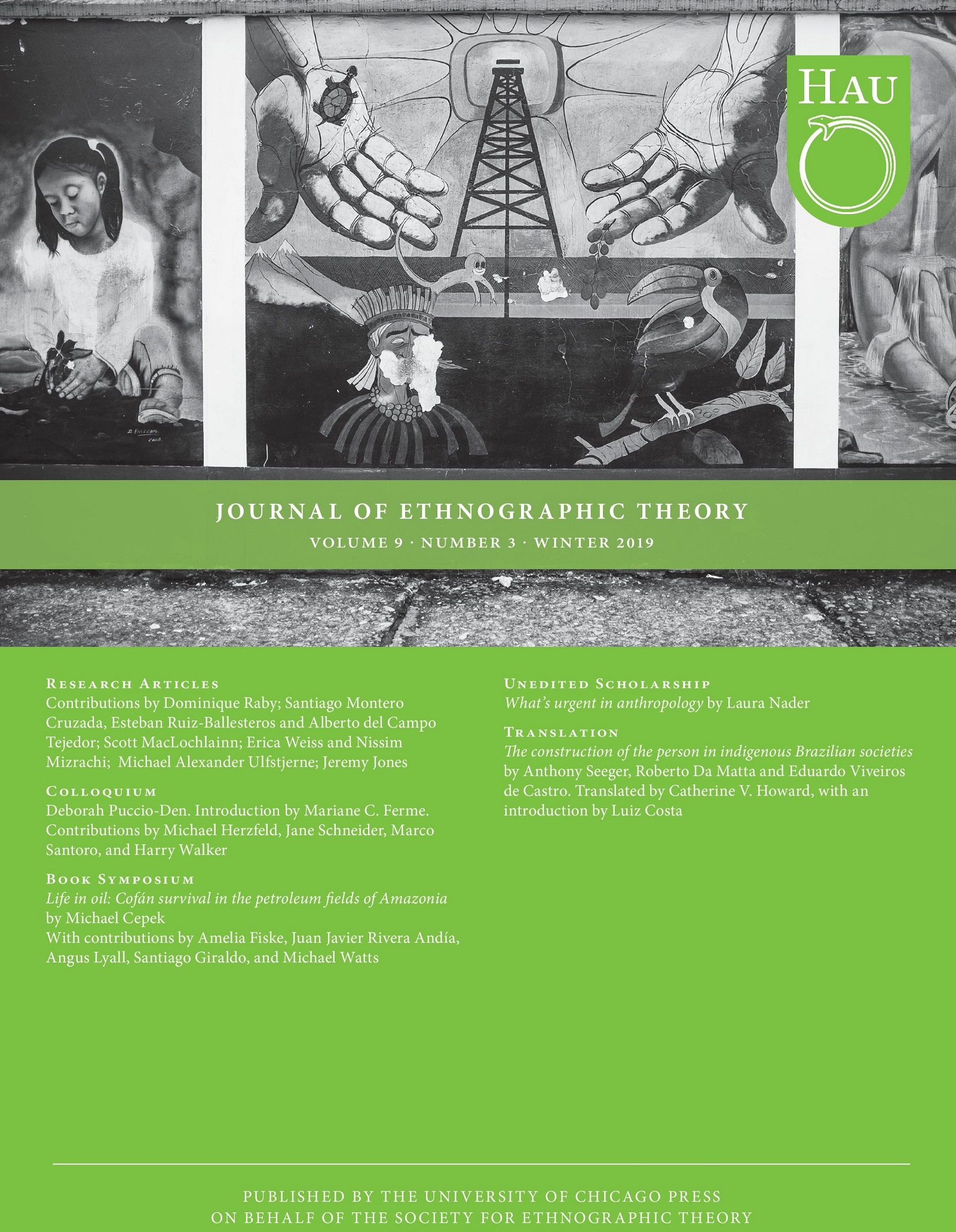 Table of Contents
Editorial Note
Material deceptions and the qualities of time

Deborah Durham, Mariane C. Ferme, Luiz Costa

493–497
Articles
| | | |
| --- | --- | --- |
| | Scott MacLochlainn | 498–513 |
| | | |
| --- | --- | --- |
| | Santiago M. Cruzada, Esteban Ruiz-Ballesteros, Alberto del Campo Tejedor | 514–528 |
| | | |
| --- | --- | --- |
| | Erica Weiss, Nissim Mizrachi | 565–578 |
| | | |
| --- | --- | --- |
| | Michael Alexander Ulfstjerne | 579–595 |
Colloquium
Crafting "mafia": Performative and material practices

Mariane C. Ferme

596–598
| | | |
| --- | --- | --- |
| | Deborah Puccio-Den | 599–618 |
Invisible things

Deborah Puccio-Den

642–649
Book Symposium
Staying with the subtlety of life in the oil complex

Amelia Fiske

650–654
Beyond the "dismal imagery": Amerindian abdication, repulsion, and ritual opacity in extractivist South America

Juan Javier Rivera Andía

655–660
On ambivalence and aspiration in oil fields of the Ecuadorian Amazon

Angus Lyall

661–665
Ethical affordances against (gringo) paternalism

Santiago Giraldo

666–668
Oil on the water

Michael Watts

669–672
Theory, ethnography, and ethics in an indigenous phenomenology of oil

Michael L. Cepek

673–679
Unpublished Scholarship
What's urgent in anthropology

Laura Nader

680–686
Translation
Introduction: The place of "The construction of the person in indigenous Brazilian societies" in Amazonian anthropology

Luiz Costa

687–693
The construction of the person in indigenous Brazilian societies

Anthony Seeger

694–703