HAU: Journal of Ethnographic Theory, is an international peer-reviewed, partly open-access journal that appears in both digital and print format. It aims to take ethnography as the prime heuristic of anthropology, and return it to the forefront of conceptual developments in the discipline.
The journal is motivated by the desire to reinstate ethnographic theorization in contemporary anthropology as an alternative to explanation or contextualization by philosophical arguments--moves which have resulted in a loss of the discipline's distinctive theoretical nerve. By drawing out anthropology's potential to critically engage and challenge its own cosmological assumptions and concepts, HAU aims to provide an exciting new arena for evaluating ethnography as a daring enterprise for worlding alien terms and forms of life, exploring  their potential for rethinking humanity, self, and alterity.
HAU takes its name from a Māori concept, whose controversial translations—and the equivocations to which they gave rise—have generated productive theoretical work in anthropology, reminding us that our discipline exists in tension with the incomparable and the untranslatable. Through their reversibility, such inferential misunderstandings invite us to explore how encounters with alterity can render intelligible a range of diverse knowledge practices. In its online version, HAU stresses immediacy of publication, allowing for the timely publication and distribution of untimely ideas. The journal aims to attract the most daring thinkers in the discipline, regardless of position or background.
HAU welcomes submissions that strengthen ethnographic engagement with received knowledges, revive the vibrant themes of anthropology through debate and engagement with other disciplines, and explore domains held until recently to be the province of economics, philosophy, and the sciences. Topics addressed by the journal include, among others, diverse ontologies and epistemologies, forms of human engagement and relationality, cosmology and myth, magic, witchcraft and sorcery, truth and falsehood, science and anti-science, art and aesthetics, theories of kinship and relatedness with humans and non-humans, power, hierarchy, materiality, perception, environment and space, time and temporality, personhood and subjectivity, and the metaphysics of morality and ethics.
Free access journal
The University of Chicago Press publishes one free-access journal: HAU: Journal of Ethnographic Theory. This model provides one month of free access after the release of each new issue, and then requires a subscription for continuous access to content. All HAU: Journal of Ethnographic Theory content published from 2011-2017 is open access.
Announcements
Letter to the Editors of The Chronicle of Higher Education by the Directors of the Society for Ethnographic Theory

Dear CHE Editors

We were dismayed that the Chronicle decided to publish Jesse Singal's article on our publication HAU (How One Prominent Journal Went Very Wrong, Oct. 5, 2020) in such an inchoate state – not to mention its unfortunate timing. Given the role of CHE in upholding the importance and integrity of higher education, we would have expected to see greater insistence on situating HAU in the wider context of academic publishing. Instead, the article merely reprised the developments of a turbulent period simply in terms of a conflict between two individuals. It gives the false impression, casually smuggled in towards the end, that HAU remains substantially unchanged. Nothing could be further from the truth.

HAU came into being as a radical departure from established ways of publishing academic journals. Created by a handful of young scholars, most of them graduates and post-docs in precarious situations, it was affiliated neither with an academic institution or university nor with any professional or subject association. Its independence was its strength, enabling the journal to produce high-quality, original scholarship and very productive re-readings of older anthropological accounts. Unfortunately, that very independence also proved a temporary weakness, that sustained an informality beyond when it was healthy for the journal. This was pointed out in the report drawn up by the Executive Council headed by Carole McGranahan. When we took over as the Board of Directors in September 2018, it was clear to us that this informality had to be the first thing that had to be addressed to re-establish trust in the journal and its workings, following the media campaign launched against HAU and its founder Giovanni da Col. The world of HAU described in Singal's piece bears absolutely no resemblance to the new organisation of the journal or the ethos of its current structure of editorial collectives.

Singal reached out in November last year to individuals working in various capacities with the journal. We read some of his earlier pieces, developed a good impression of his abilities and rigour, and became hopeful that he would produce a fair and more up-to-date account of the vicissitudes and state of HAU. We assumed that he would report on his discovery of new material about the past as well as the new developments at HAU itself. Equally, our confidence also stemmed from knowing where the piece was being published. But rather than situate the events of the past within the broader concerns of contemporary publishing and its fraught relationship with academia, the article dwelled on gossip, email exchanges, and innuendo, shallow in its ethical judgement, and betrayed its informants. Its analytical value as a sociological analysis of academic practices is underwhelming and not up to the standards of CHE.

On all counts, this was a missed opportunity.

Yours

Kriti Kapila, Anne-Christine Taylor, John Borneman, and Carlos Londono-Sulkin

Board of Directors, Society for Ethnographic Theory

Posted: 2020-11-09
More...
Vol 10, No 2 (2020)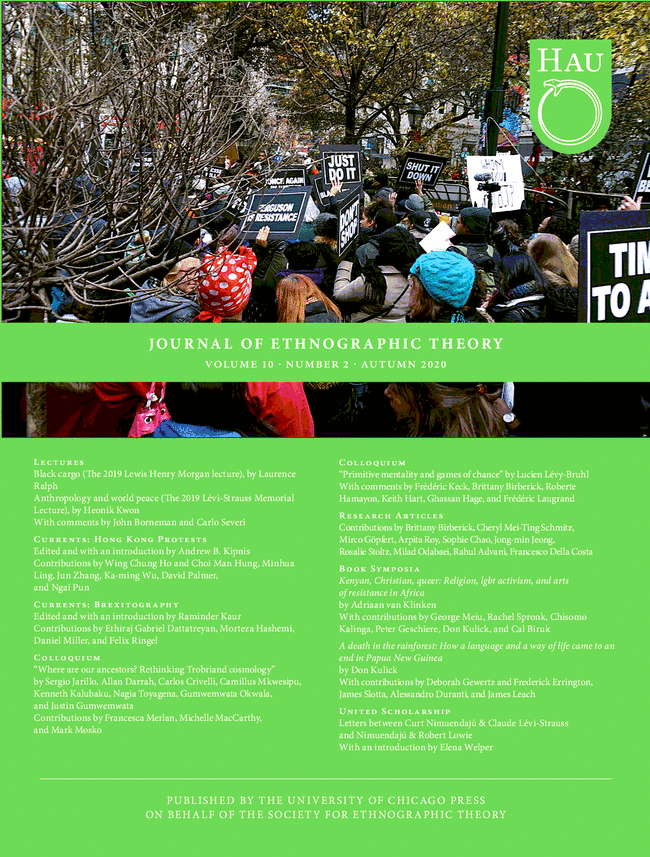 Table of Contents
Editorial Note
Racial burdens, translations, and chance

Mariane C. Ferme, Andrew B. Kipnis, Raminder Kaur, Luiz Costa

259–268
Lecture
Black cargo: 2019 Lewis H. Morgan Lecture

Laurence Ralph

269–278
Lévi-Strauss Memorial Lecture
World peace in the Cold War: Anthropological contributions

John Borneman

289–293
On peace, self-love, and humanism

Carlo Severi

294–297
Currents: Hong Kong Protests
| | | |
| --- | --- | --- |
| | Wing Chung Ho, Choi Man Hung | 303–307 |
Currents: Brexitography
| | | |
| --- | --- | --- |
| | Ethiraj Gabriel Dattatreyan | 345–350 |
Colloquium
| | | |
| --- | --- | --- |
| | Sergio Jarillo, Allan Darrah, Carlos Crivelli, Camillus Mkwesipu, Kenneth Kalubaku, Nagia Toyagena, Gumwemwata Okwala, Justin Gumwemwata | 367–391 |
| | | |
| --- | --- | --- |
| | Michelle MacCarthy | 395–398 |
Believing the unbelieved: Reincarnation, cultural authority, and politics in the Trobriand Islands

Sergio Jarillo, Allan Darrah, Carlos Crivelli, Camillus Mkwesipu, Kenneth Kalubaku, Nagia Toyagena, Gumwemwata Okwala, Justin Gumwemwata

409–419
Translation
Primitive mentality and games of chance

Lucien Lévy-Bruhl

420–424
Colloquium
| | | |
| --- | --- | --- |
| | Brittany Birberick | 430–434 |
| | | |
| --- | --- | --- |
| | Frédéric Laugrand | 450–454 |
Articles
| | | |
| --- | --- | --- |
| | Brittany Birberick | 455–472 |
| | | |
| --- | --- | --- |
| | Cheryl M. Schmitz | 473–486 |
| | | |
| --- | --- | --- |
| | Francesco Della Costa | 594–612 |
Book Symposium
Queerly Kenyan: On the political economy of queer possibilities

George Paul Meiu

613–617
Life is queer: Queer is life?

Rachel Spronk

618–622
Love: An ethnographic inquiry into queer, Christian relationships in Kenya

Chisomo Kalinga

623–625
Sex as identity or as practice?

Peter Geschiere

626–629
Engaging anthropology

Don Kulick

630–632
Normative anti-antinormativity?

Cal Biruk

633–636
Towards humane scholarship: Postsecular, queer theological, and self-reflexive turns

Adriaan van Klinken

637–645
Book Symposium
Risky research in a rainforest

Deborah Gewertz, Frederick Errington

646–649
Endangered languages and porous selves

James Slotta

650–655
Not being boring and other challenges for anthropologists as popular writers

Alessandro Duranti

656–659
The mystery of the dying language

James Leach

660–663
On the vicissitudes of publishing, and the riskiness of humor

Don Kulick

664–669
Unedited Scholarship
Curt Nimuendajú's correspondence with Claude Lévi-Strauss and Robert H. Lowie, 1936–1940

Curt Nimuendajú

681–705